Nommon is a technology company specialised in the provision of decision support solutions for the transport industry based on big data and artificial intelligence. Since its creation in 2012, the company has been a pioneer in the use of innovative data sources from the analysis of travel behaviour. In the past 10 years, Nommon has completed more than 200 projects in which mobile network data, smart card data, and other data from personal mobile devices have been successfully used to produce origin-destination matrices and other mobility indicators. 
Since early 2022, Nommon has an agreement in place with Vodafone UK to provide travel demand and mobility information based on Vodafone's mobile network data. This agreement has enabled the Company to start offering its solutions in the British market. In addition, Nommon has recently extended its solution portfolio with a suite of decision support solutions that combine new big data sources with artificial intelligence techniques to go beyond descriptive analytics and support the planning and management of transport services based on data driven demand predictions. The event "Leveraging Big Data and Artificial Intelligence for Transport Planning and Management", that will take place on 14th June, in central London, will provide an opportunity to present Nommon' solutions, and discuss how to get the most out of new data sources and what are the next challenges we face in transport planning and management.
About the event
The event "Leveraging Big Data and Artificial Intelligence for Transport Planning and Management" is targeted at professionals, both from the public administration and the private sector, interested in mobility, transport and traffic.
The event will kick off with a welcome introduction conducted by Luis Willumsen, Nommon Managing Partner and an internationally recognised authority in transport and traffic modelling, and David González, Head of Big Data & Analytics at Vodafone Business. These introductory talks will be followed by several sessions where Nommon's managing team will present our solution portfolio and clarify questions from the audience.
The event will conclude with a panel discussion where different professionals will explain their previous experience with the technologies presented during the day, and will discuss the value of big data and artificial intelligence for transport planning in post-pandemic scenarios. The outstanding participants on board are: Huy Nguyen, from Transport for London; James Key, from Aimsun; and Tom Van Vuren, from Veitch Lister Consulting. The event will wrap up with a networking lunch to continue the open dialogue between attendees.
Participation is free of charge. Places are limited and will be assigned in order of registration. Fill out this form to attend: https://bit.ly/nommon-uk-event 
Check out the full programme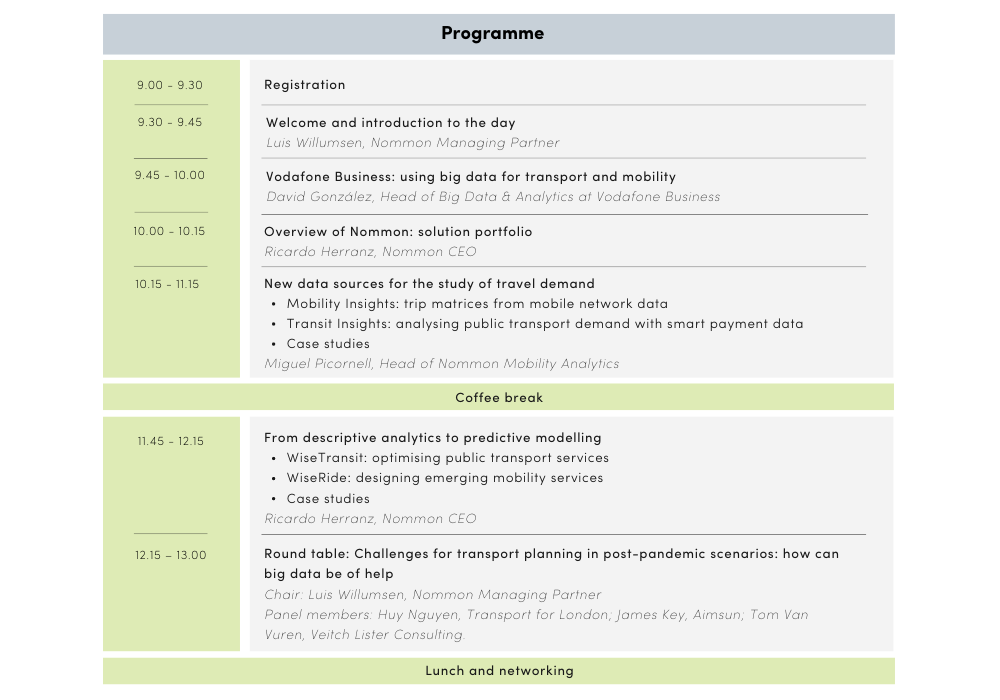 "Leveraging Big Data and Artificial Intelligence for Transport Planning and Management"