Nommon and Populus present AVENUE in Paris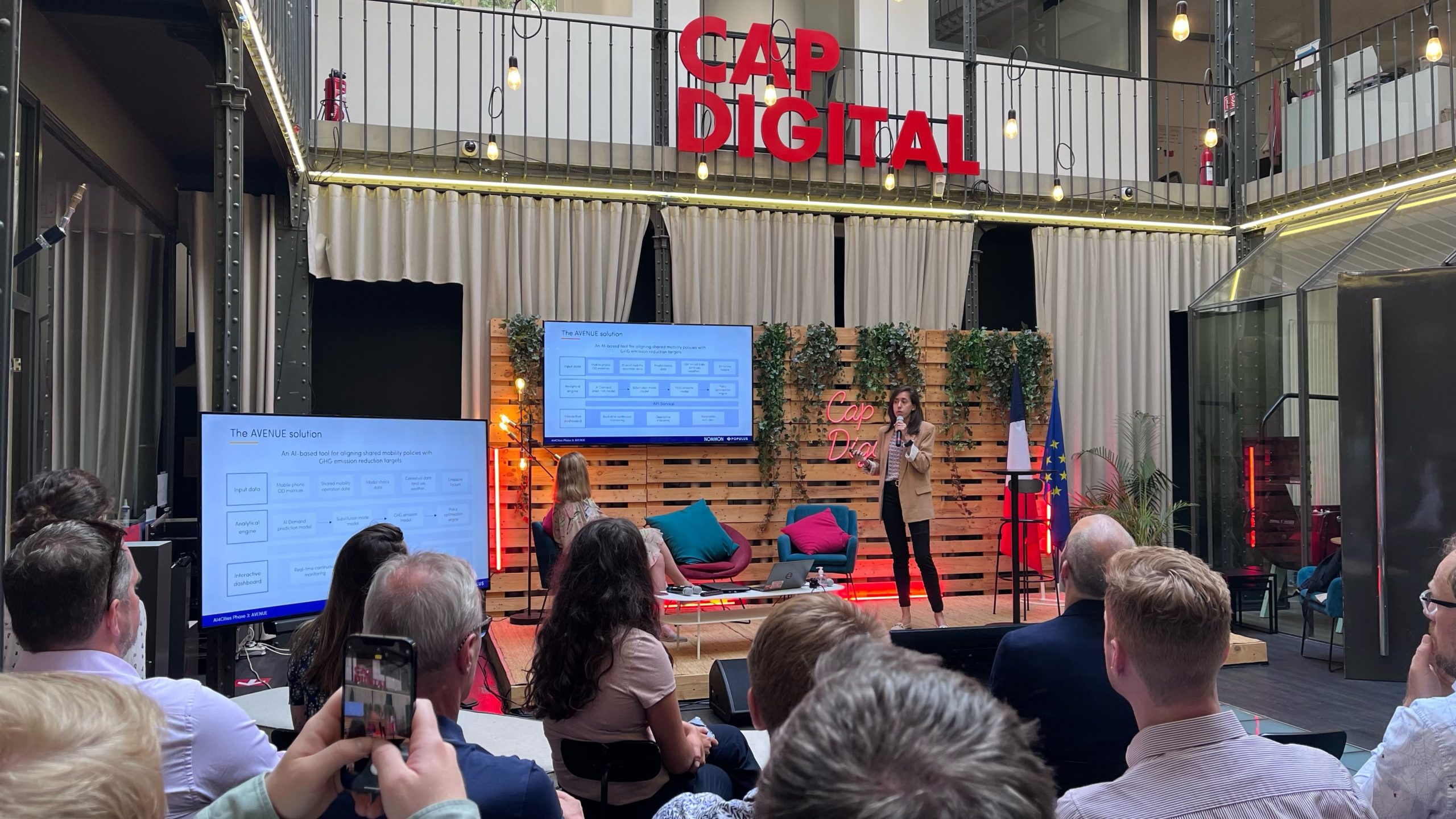 On 14 and 15 June all suppliers participating in phase 3 of the AI4Cities programme met in Paris for the mid-term review. The main objective of the meeting was to present the progress made in the development of the different energy and mobility solutions and to demonstrate how they can help cities reduce their carbon footprint. Representatives from Nommon and Populus attended the meeting to present our AVENUE solution, which consists in an AI-based decision support tool for designing and monitoring shared mobility regulatory frameworks oriented towards the reduction of GHG emissions.
The meeting was conducted in a two-day session. The first day was focused on the solutions' mid-term progress review. The suppliers from the seven projects that moved on to phase 3 (four from the energy lot, and three from the mobility lot) gathered in Cap Digital's offices to present the status of their developments. Among the audience were AI4Cities organisers and representatives from the piloting cities. The AVENUE consortium presented the progress made during this last phase and the main activities performed. Special attention was given to the CO2 reduction potential that cities can achieve by using the AVENUE solution in their decision-making workflows to implement shared mobility policies and regulations. The agenda of the event included a live demonstration of the tool, which allowed Nommon and Populus to show for the first time in front of an audience the interactive dashboard with the shared mobility demand forecasts and the resulting impact on CO2 emissions.
During the second day, the participants were invited to pitch their solution at the VIVA Technology congress, one of Europe's biggest startup and tech events, in the Métropole du Grand París booth. The fair brings together innovative companies and leaders from all over the world, so it was a great opportunity to present AVENUE in front of potential clients and investors.
In the following months, Nommon and Populus will keep working together to test the AVENUE prototype in two of the cities participating in the program, Stavanger and Tallinn. Thanks to the opportunity provided by AI4Cities to present the project's achievements and meet with other suppliers and stakeholders, valuable feedback has been gathered and will be incorporated into our solution during this last phase.