InPercept aims to develop enabling technologies that allow autonomous vehicles to operate with higher levels of efficiency and safety. These technologies will help the vehicles to detect obstacles and adverse conditions and to react accordingly.
The project
In recent years, connected and autonomous vehicles (CAVs) have brought a technological breakthrough for the automotive industry. CAVs are expected to enable higher levels of traffic safety and greater environmental efficiency. The concept of Operational Design Domain (ODD), defined as the operating conditions under which CAVs can operate safely, is however limited by aspects such as weather, road conditions and sensor performance. Improving the ability of CAVs to perceive and interpret their environment is thus a key condition for making autonomous mobility a reality. The InPercept project will address this challenge by developing a set of innovative technologies aimed at improving the ability of CAVs to sense their environment and react to it, including new hardware and software components to exploit the data generated by CAVs.
InPercept's objectives
The overall goal of InPercept is to develop new technologies for enhancing CAV's perception and interpretation of the environment. These technologies will allow the extension of CAV's ODD in smart city environments under adverse conditions, improving the safety and sustainability of CAV operations.
To achieve this general goal, the following specific objectives have been defined:
To develop new external perception systems that increase the performance and reliability of the detection of traffic conditions.
To develop an interior perception system for the monitoring of the driver and the occupants.
To develop advanced positioning and connectivity technologies to enable cooperative perception and driving.
To develop new AI-based algorithms for situation understanding and real-time decision making.
To develop data management and advanced driver assistance systems (ADAS) for the improvement of the safety of the vehicle and traffic participants, with special attention to vulnerable road users.
To demonstrate the positive impact of the project developments through a variety of use cases, including different smart cities and fleet management use cases.
Nommon's role
Nommon's role in InPercept is to specify and develop a set of smart cities use cases that leverage the data collected by CAVs to improve mobility planning, enhance road safety and reduce the environmental impact of road traffic.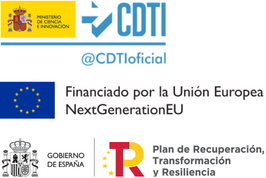 InPercept has been funded by the Spanish Technical and Industrial Development Centre (CDTI) and the Next Generation-EU program. The project has been supported by the Spanish Ministry of Science and Innovation.